Over the years, we've found many facilities need a way to keep their environmental program in check, while continually improving their operations as per investor, staff, customer, and community demands. We suggest for most facilities they look into an EMS, and here we discuss what they are, and why they could be useful at many different types of facilities.
Chances are, if you're reading this post, you're in two types of categories. You've either heard about an EMS and want to develop one, or you've never heard of one, and have to develop one.
Either way, we're setting out to answer clearly what one is, and what they mean to you.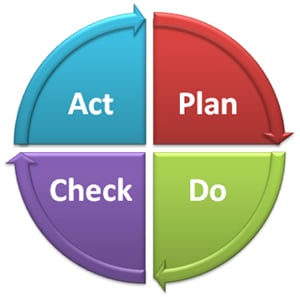 So what's an environmental management system?
The USEPA defines it as "a set of processes and practices that enable an organization to reduce its environmental impacts and increase its operating efficiency", and that it "is a framework that helps a company achieve its environmental goals through consistent control of its operations". A further part of the USEPA definition that I really like is "it does not itself dictate a level of environmental performance that must be achieved; each company's EMS is tailored to the company's business and goals".
So let's break this down and understand what it really says:
Processes and Practices - This simply is what a plant does. What they do, how they do it, and how it impacts the environment, both good and bad. A lot of people only focus on the bad, but there's some process you do which may have positive benefits.
Reduce Environmental Impacts - Pretty obvious. Less air pollution, less water pollution, less waste generated, less energy used, smaller carbon footprint, more recycling, etc. This is kind of a no-brainer.
Achieve Environmental Goals - Remember, these goals are tailored to your organization. What would your environmental goals be? You set them in an EMS, they're not set for you. You can identify any types of goals or targets you'd like to hit, regardless of your industry, market, etc.
Does not dictate levels of environmental performance - I really like this, and frequently find clients have a problem understanding this. An environmental management system is designed to continually improve your facility and operation. You don't have to have a perfect operation to implement start an EMS. In fact, it's almost the other way around! If you start off with a facility that needs a lot of work, it's much easier to lay out a strategy for improvement. After a few cycles, your facility should be in better shape. If it's not, you're not using your EMS correctly.
What's an environmental management system?
It's a system, a program of practices, a documentation of procedures, a plan for continual improvement, a tool to establish benchmarks and set goals for the future, and a way to involve your entire operation in better environmental operations. It's a living document that morphs with your facility to turn you into an environmental leader.
There's various types of systems out there, from globally accepted ISO 14001 environmental management systems, to industry specific ones like the NRMCA Green-Star EMS. Deciding what's right for you is based on what you want with the system, what your goals are, your level of commitment, and why you're getting it in the first place. There's always options, like getting environmental management system training to learn and understand which system could work best for you at your facility.
We've found that besides folks saying yea I've got one, people are getting solid, tangible benefits from implementing one. From costs savings, to increased brand awareness, to bidding on jobs that they previously couldn't have bid on before, there are some serious positives to having one. We'll cover that in another article.
If you'd like to consider an EMS, or are curious about how to go about it or what it might do for you, click here to contact us or call us at 609-693-8301 to discuss your needs today.