Do you need to conduct training on your environmental management system?
A lot of organizations these days are embracing their environmental performance in a way like never before. A fairly common problem we see with our clients (before they start working with us I should add) is they aren't sure if they're handling things correctly, and don't know what they really need to do to stay on target.
A simple, usually fairly straightforward idea we suggest is implementing an environmental management system at their facility to keep track of their environmental permits, approvals, and whatnot. Most folks see the light and go for it, but we see similar trends with companies that ignore training, usually meaning at some point their EMS becomes less effective than they initially hoped.
We recommend training on your environmental management system as a simple and effective way to keep you, your staff, and your entire organization on the right track. But, is it required? Do you really need it?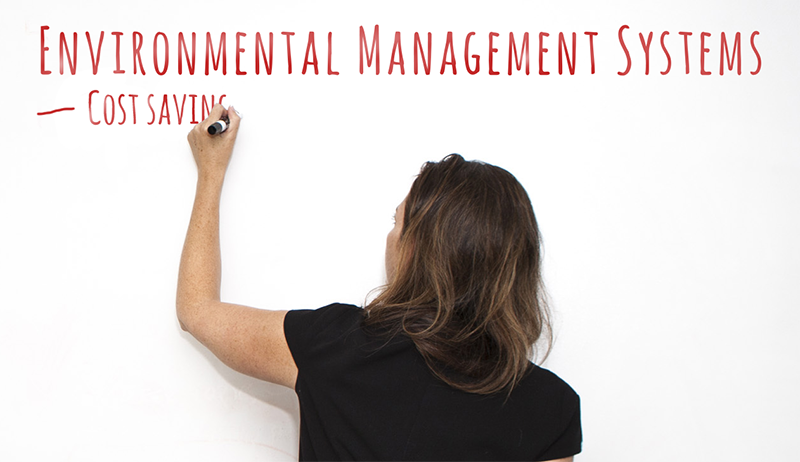 Do you need to conduct environmental management system training?
Training on your environmental management system shouldn't be confused with general environmental compliance training, but folks often fail to see the differences between them.
For instance, environmental compliance training is usually going to focus on both general & specific information with regards to your various permits, plans, and approvals. Think things like stormwater training or air permit training or SPCC training. For a more detailed breakdown check out What is environmental compliance training?
Training on your environmental management system is different as it focuses on your specific EMS as opposed to your permits & approvals.
Let me use an example to illustrate what I mean.
An EMS usually requires a substantial change in corporate thinking. For most of us, we're concerned about one thing and one thing only: profits.
How are we most profitable? We do what we have to do (stay in environmental compliance), keep our heads down, and make our customers happy.
There's almost no thought of big picture items. We usually fail to consider things like sustainability, or how our permits and plans interact with each other. For example, your air emissions may be perfectly acceptable under your Clean Air Act permit, but clearly point out that you're engaging in toxic pollutant emissions under EPCRA Reporting. Or, although in compliance, what impact does your stormwater discharge really have, and might the environment (and your bottom line) improve by harvesting stormwater for use in our process rather than discharging it?
An environmental management system is going to change how you think because it forces you to have everything under one roof, for (usually) easy review. A comprehensive EMS requires a company to focus on their activities and resultant environmental impacts across the board - not just how they fit into some specific regulatory program.
So, for these reasons, an EMS can be a real challenge for some companies or organizations. And for that, in order to make the EMS work effectively, you need one thing - training.
So we do need environmental management system training?
Let me answer this question right now. There's no law or rule that specifically states it, so you do not need environmental management system training.
You do need to do your required training on your permits & approvals, things like SPCC Plans and stormwater permits, as those requirements are dictated in your permits.
Your EMS is voluntary. Training on it is voluntary. You can stop using it at any time. But chances are if you're using it correctly, you'll never stop using one.
So while you don't need training on your environmental management system per say, we always recommend it because it keeps you and your staff in the loop. Here's how:
Training on Your Permits & Approvals
Cover the basics first. Touch base on what you're required to do. NPDES Permits, Tier II Reporting, Air Permits, TRI Reporting, etc. etc. Let everyone know here's what you need to do at a baseline, here's how we stay in compliance, and that's it.
You want to focus on the bigger and better, as it relates to your organization.
Training on Your Specific Environmental Management System
Your EMS is going to have things unique solely to your facility, and your organization. Talk about them!
Let everyone know what sets your EMS apart from others. I don't mean "we're special, we're #1" type stuff, but focus on the complexities of your facility, the unique challenges and opportunities found through your EMS, and reasons why your EMS can only succeed at your operation or only for your company.
You shouldn't be using a pre-packaged, premade EMS for your operation. Especially if you're seeking something like ISO 14001 certification or something similar.
Training Your Staff on Their Roles & Duties
In most cases an EMS is going to have a few different people actively participating in it.
Everyone needs to know how they are supposed to be interacting with the EMS, who the other folks in the EMS are, and how everyone fits into the puzzle.
This is a no-brainer folks. You want to make sure everyone's on the same page, they know what needs to be done, and specifically who's involved.
We find that organizations that employ a clearly defined list of personnel and their responsibilities have the lowest amount of problems with their EMS. Human error is usually the biggest issues with an EMS.
Training on Long & Short Term Goals
A good EMS is going to take the big picture into consideration. Where are you hoping to go? Are you skirting by, or embracing your environmental stewardship?
You can effectively communicate how you're going to stay ahead of your required compliance levels and use your environmental performance as a selling point.
Every cycle of your EMS should include some performance point. You usually would have both short and long term goals outlined. I'm generalizing, but things like cut resource use, upgrade to efficient machinery, develop new packaging with less waste, etc. etc.
You can help show your staff & organization (or at least those present for training) a glimpse into the future of the company.
Training Provides Buy In
Let's face it. Have you ever been passionate about something you're not actively involved in? In most cases the answer is no. Same goes for your EMS.
Want your staff to give two hoots about your system? Fill them in on it. Educate them. Let them know what they're participating in.

For best results, conduct environmental management system training.
To do anything else is crazy, and is just asking for your EMS to fail.
Without training, you'll probably become one of those companies who started on the EMS path, didn't find value, and abandoned the process. We've seen it dozens of times, and 9 out of 10 times it's because the company wasn't conducting training.
So is training required? The answer to that may be no, but if you want your EMS to work the answer is yes!
To learn more about training click here to contact us or give us a call at 609-693-8301 to discuss your training needs today.