Find out what environmental training courses are and why you might consider using them!
When it comes to adhering to environmental regulations, one of the most common requirements out there is the need for regular, documented, annual environmental training. Many businesses with various types of plans, permits, approvals, etc., know they need to conduct training, but aren't sure exactly how to go about it. Does environmental training mean taking a formal class? Something done by an expert? Something on video? Online?
In the past, environmental training sessions were primarily taught in a classroom setting. However, as online learning has become more popular and convenient to access, so have environmental training courses. Online environmental training courses are quickly becoming more popular than traditional classroom setting training, and for good reason. In this article, we'll cover some of the types of environmental training courses that currently exist in the online market, as well as some of the reasons that environmental training has become so popular in recent years.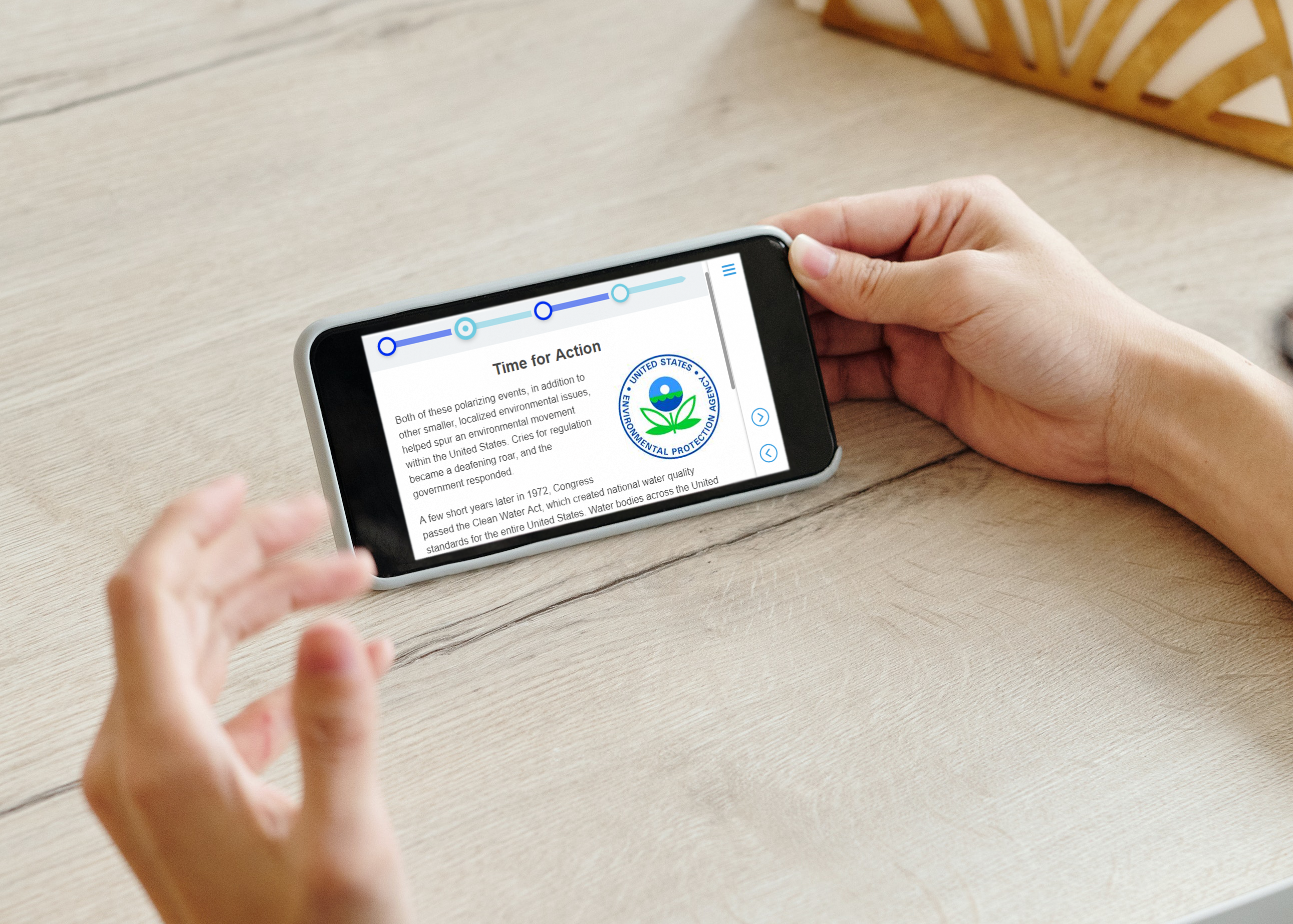 What sorts of environmental training courses are offered online?
There are tons of great environmental training courses available online today. Some help to satisfy specific requirements, some offer helpful tricks and tips for skill-based tasks, while others focus on big-picture topics. Some of the most common environmental training course types follow.
Required Environmental Training
There are some environmental permits, documents (like environmental plans), and regulations that require employers and employees to have a particular level of training. Things like stormwater (NPDES) permits and SPCC plans often specifically state that employees must be trained annually - at a minimum!
In the past, this training was oftentimes taught in person, leading to lots of logistical problems like scheduling the training, accounting for employees who were absent, documenting those who were in attendance, etc. Not to mention, you'd need to know what you were talking about! Otherwise, you'd have to hire a professional, like an environmental consultant to come in and instruct the training. Which gets expensive!
Environmental training courses can help to fulfill some of these requirements for you, allowing you more free time and peace of mind. And, since they're available online, you can access them at any time from anywhere. You won't need to deal with documenting the training by hand, as environmental training courses offer automatically generated certificates of completion as proof of training. Oh, and no more worrying about who's going to teach the training, because when the courses are developed by environmental professionals, you get the same expertise you'd get in person, without the logistical nightmares!
Skill-Based Environmental Training
Another subset of environmental training includes skill-based tasks. These topics usually aren't required by any specific regulation, but can be hugely beneficial in ensuring you and your staff are knowledgeable and prepared to tackle your environmental responsibilities. After all, the best insurance plan when it comes to the environmental concerns of your business is being proactive and having a well-trained staff!
These types of courses can include things like how to correctly take a stormwater sample, properly testing for different pollutants, what to do if you spill oil or other toxic substances, how to file and submit environmental reports and documents to regulatory agencies, etc. These courses can be developed by environmental consultants that have expertise in these areas of knowledge and can provide some great guidance for everyday situations!
While these sorts of topics haven't always been available for training through online courses, it's becoming more and more popular as time goes on. If you have an environmental responsibility that requires other employees to be trained in a particular area, even though it may not be required, these are great options.
Big-Picture Environmental Training
Last, but certainly not least, are the big picture environmental training courses. If your business aims to go above and beyond simply "complying" with environmental requirements, these courses can help to educate you and your staff and ensure that you're on the right track to becoming a shining example of environmental responsibility.
These types of courses are focused on a variety of different topics. They include things like how to make greener business decisions, recycling, and waste management best practices, how to reduce your carbon footprint through a variety of different avenues, how to go about improving the environmental impacts of your business on an ongoing basis, how to set up and utilize an Environmental Management System (EMS), etc.
For businesses looking to be proactive in the areas of environmental responsibility and stewardship, these courses provide great insights and guides that help to ensure you're on the right track!
Okay, but is online training really that great?
We think so! Like I mentioned earlier, online environmental training courses are incredibly popular. They're easy to access, work on any mobile phone or computer, allow for self-paced training, give you knowledge checks like quizzes and role-playing scenarios along the way, offer certificates upon completion, and can be designed by professionals that have expertise in the topics they're teaching!
Not only do these features of environmental training courses speak for themselves, they're also very convenient and can allow you to work the training into your schedule. Stuck in line at Chipotle? That's the perfect time to learn more about cleaning up a spill of oil on your smartphone! Rainy day? Review the requirements of your stormwater permit on your tablet! These types of courses are great because they make it incredibly easy for you to get your information when is convenient for you.
Unlike a traditional classroom course that might be limited to one time per day, an online environmental training course can be taken at any time. An online training course is completely flexible and allows you to work on it when you need it. And, online environmental training courses are interactive and require you to engage with the material in order to learn the information provided, leading to an all-around more effective learning experience.
With all of these aspects combined, online environmental courses are quickly becoming more popular than traditional courses and, in many cases, they're actually preferred. If your business is looking for a way to ensure that employees are appropriately trained and engaged on environmental issues, online training courses are the way to go!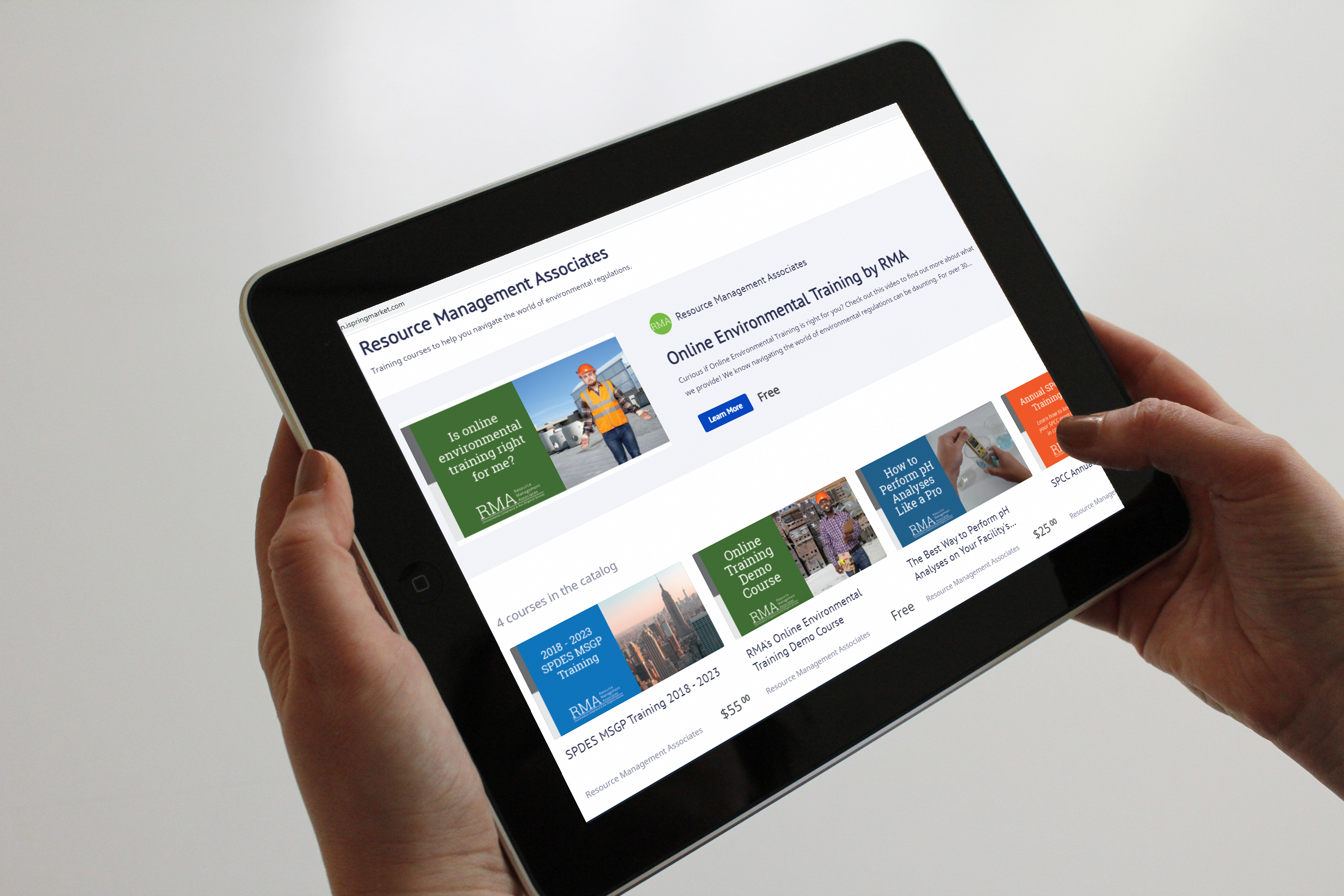 Where can I find online environmental training courses?
We've been conducting in-person environmental training for over 30 years across the world. We've seen and done it all. Now, we're bringing our environmental training expertise online!
We offer environmental training courses in a variety of topics on our online environmental training portal, ranging from required training to big-picture topics. We're always adding new courses and updating available material, so if you don't see what you're looking for, check back soon! Or, drop us a line and suggest a new environmental training topic. We're always open to suggestions!
Online environmental training courses are here to stay.
Environmental training courses are a great way to learn about various areas of environmental responsibility. There are many different types of courses out there, from required stormwater permit training to big picture topics like sustainability and "going green".
Online environmental training courses are convenient and can be taken at any time that works best for you. They're quickly becoming more popular than traditional courses because of the convenience, flexibility, and interactivity they offer students. Online environmental training courses are a great option for businesses that want to ensure they are being proactive with their environmental responsibilities!
In the end, online environmental training courses can provide a variety of benefits depending on your business. The convenience factor alone makes these types of training sessions worth looking into. And, if you aren't sure what type of training you need or what is right for you, it's probably best to contact an expert for further information about the environmental training you need to make sure your business is best prepared and educated to tackle your environmental responsibilities and initiatives!
I need additional environmental training help!
If you're in the role of a trainer or trainee, this might be a lot to take in. If you're overwhelmed, you're not alone. RMA has been actively involved in helping companies get environmental training since our founding in 1992. Long story short, we know the ins and outs of the environmental concerns industrial and commercial facilities face regarding environmental training and other regulatory concerns. We can help you get into compliance with applicable environmental laws and regulations, ensuring your business stays out of trouble and in compliance.
Our staff members have been on-site at thousands of commercial and industrial operations across the country, so when we say we've seen it all and done it all, we mean it. We've provided environmental training to everyone, from globe-spanning, multi-national organizations to small "mom & pop" operations. No matter your size, industry, or location, we'd love to learn how we can help with your environmental training needs.
If you're having any type of issue at your operation with your environmental training program, need environmental training, or anything else, and need the help of an environmental consulting firm with a proven track record, reach out. Even if we can't help, we'll do our best to steer you in the right direction. Feel free to contact us at info@rmagreen.com, click here to contact us, or give us a call anytime at 888-RMA-0230 to learn how we can help your operation deal with environmental regulations.