When buying or selling a property, a Phase I is really a no brainer. We discuss the top 5 reasons why someone selling a property may consider getting a Phase I in order to bolster their sales effort.
We just wrapped up a Phase I for a client around the corner from our offices. He was buying an old piece of commercial property, and knew the value of getting a Phase I ESA done before he actually bought the lot. It makes a lot of sense, and there are plenty of great reasons to get one done. After the whole thing was over and done with, we got to talking about selling property, and he asked
"Should a seller do a Phase I Environmental Site Assessment? Would that make any sense, or have any value?"
Great question!
While this is somewhat unusual, there are some great reasons why doing a Phase I ESA makes sense as a seller.
Let me say right off that we are constantly amazed at what we see when we do a Phase I Environmental Site Assessments on behalf of the buyer. Things that slow the deal down, cost the seller a lot of money, things that even kill a deal! Take a look at these photos which are from an actual site we visited not too long ago.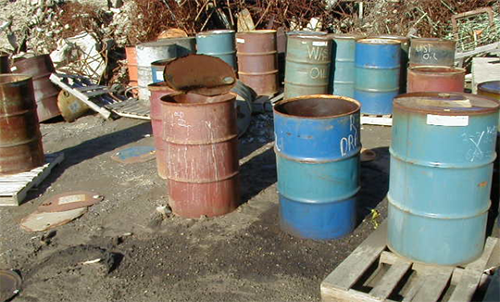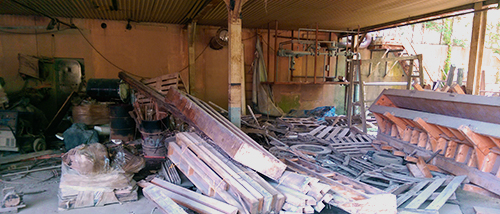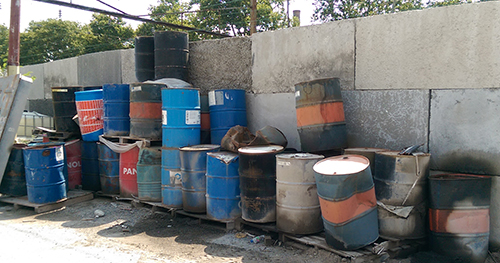 Who would leave their site looking like this?! Empty drums, visible spills, piles of scrap metal. And this wasn't even a scrap metal yard, or recycling facility, or any place you would expect to see this much metal. This was junk! Hint: This site deal fell through. The property owners were slobs and there was contamination present in multiple places on the property. Now their site's dirty, contaminated, worth a fraction of their asking price, they have an environmental headache on their hands, and their state's environmental agency is overseeing a clean-up. It's unfortunately costing the sellers a pretty penny. Hey sellers, if you're reading this, clean your sites up!
Recognize that any environmental due diligence you do as a seller will probably be looked at skeptically by the buyer's side and their team of professionals. You're biased, you think your property and business are great and that there's nothing wrong, and so you're asking a ton of money. May or may not be true, but that's what the buyers will think of you regardless. So any environmental work you do will be viewed with a great deal of skepticism. Almost to the point of being irrelevant from the buyer's perspective.
Why should a seller get a Phase I Environmental Site Assessment?
So I just talked you out of doing a Phase I right? Why would you even consider it if the buyer won't think it's worth anything?
Transparency. Whatever you might find on your own in a assessment, before anyone else does, it's going to be found by potential buyers. Trust me, it's going to happen. People like me look over years and years of records, conduct very detailed site inspections, and we find anything and everything that could be an issue. You can't hide from a good Phase I. You will know what the problems, faults or issues are (if you don't already know) before someone has to point them out to you.
Fix problems before they arise. Want to wait and let someone else find your faults and let regulatory agencies know what's wrong with your site? Or, do you want to find issues in advance and possibly do something about them? Why not hire an environmental professional to do a thorough Phase I Environmental Site Assessment of the property or business before you get going and find out what a potential buyer is going to find out? Then, you have the chance to devise a plan to deal with any issues found. Address the issues (honestly and in accordance with all regulations, we're not talking about burying drums here) before you're forced to, or money is taken off the table, as part of the deal.
More money in your pocket. Yes, doing your own environmental due diligence is going to cost you. And yes, anything you clean up or fix up is going to cost you. But if the buyer finds it, and it's got to get done prior to closing when things are getting hectic and everyone is under the gun, chances are it's going to cost a lot more and you're going to pay anyway. Or, the buyer is going to offer less because of the liability of buying your property. Do a Phase I Environmental Site Assessment on your own terms and it'll likely cost less in the long run.
Time. Trust me, you have more time to do it now, rather than waiting until a possible closing date gets near. Environmental due diligence takes time. Especially if you have to conduct a Phase II (more site inspections, soil sampling, water sampling, air testing, waiting on lab results, notifying regulatory agencies, dealing with lawyers, etc. etc.). Get it done while you can, not when everyone is in a rush to close.
Trust. You look like a trustworthy seller, someone who is willing to be proactive and who really understands what needs to happen to get the deal done. Do you want to sell your property or are you just wasting people's time? Conducting environmental due diligence ahead of time will give you the appearance of laying all your cards on the table. You're letting prospective buyers know you have nothing to hide and are ready to move forward.
Given these reasons, why wouldn't you do your own Phase I ESA prior to a property or business sale. Sure, maybe the buyer won't accept your Phase I ESA, but the results you'll obtain in the long run far than make up for this shortcoming.
While it doesn't happen as often as it should, environmental due diligence performed by the seller does a lot of good before the sale. Consider it the next time you're in that position.
If you're looking for more information about Phase I's, click here to contact us or give us a call at 609-693-8301 to discuss your needs today.