We cover how to put together an effective pH kit for stormwater sampling for under $300.
If you're up to speed on your NPDES stormwater permit, stay ahead of required annual stormwater training, and have a basic competency of technology and your permit, you can easily take the pH of your stormwater sample from a relatively inexpensive pH kit. This is great news for businesses with smaller budgets or folks without close access to a certified lab.
While this is not the be-all, end-all pH kit, it is an attainable and repeatable setup that will keep companies well supplied with easy to obtain products from online or big-box retailers.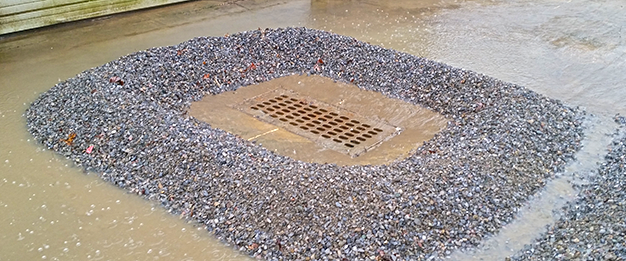 Building your own pH sampling kit.
You can build a good portion of this kit by ordering stuff off Amazon in one shot. Just bear in mind that the prices below were accurate when we wrote this and can change. But, the prices should be pretty accurate regardless. You can also get most of this stuff at Home Depot, Lowes, or other hardware stores.
First off - Can you sample the pH of your stormwater?
Before you decide to do this yourself, ensure that you are capable of doing this by either double checking your NPDES permit, or getting in touch with the department in your state in charge of the stormwater permitting program. Most will probably say yes as long as you follow guidelines etc. etc., but some might say you can't. Find out if you can or can't by calling or emailing your state environmental department.
pH is unlike most of the other pollutants you pay a lab to analyze stormwater samples for one simple reason: you can take the pH of a stormwater sample yourself, assuming you are allowed to.
You might think why would I want to do that? I don't know about where you take your samples to, but most labs we talk to aren't cheap. This goes double for getting the pH of a stormwater sample since pH needs to be analyzed within 15 minutes after you get your sample. Meaning, you have to pay for a lab tech to be at your site, sit there, wait for a discharge, and analyze the discharge. Even if they can't get a sample, you're still paying. Even if you take the sample yourself and they just analyze it, you're still paying!
So, we at RMA recommend, if you are able to, that everyone perform their own pH analyses. It's easy and saves you money!
Now, here is a list of what you need in order to do so. Outlined below is a list of the main components we at RMA recommend you have in your pH field test kit.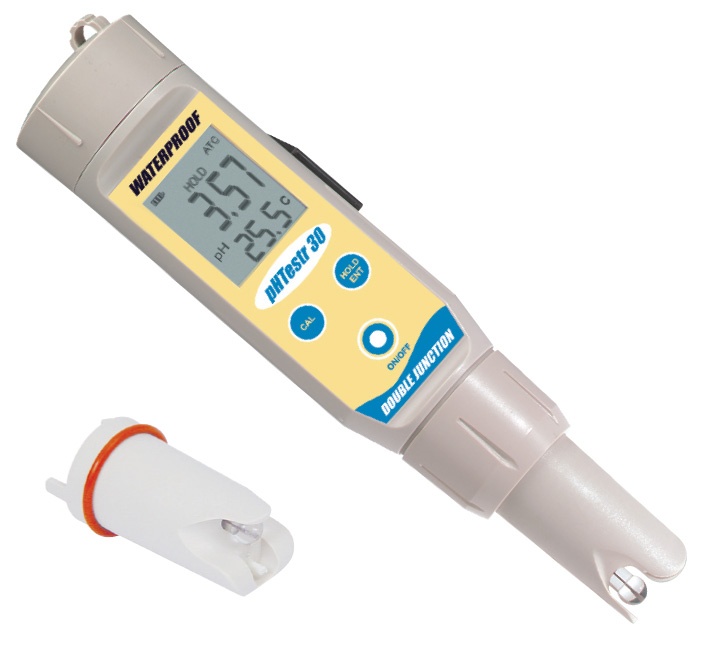 A pH Meter
The first thing you're going to need is a pH meter. I strongly recommend using the Oakton pHTestr 30. This is an excellent meter. It's small, lightweight, and durable. It's a very accurate meter and should run you about $100 or so, depending on where you get it from.
The meter is comprised of three different components, the batteries, the internal computer, and the electric probe. Both the batteries and the probe can be replaced, so I recommend having replacements for both in case you need to use the meter in a moment's notice.
Need more convincing? We've covered this little gizmo in the past because we love it so much. Check out our article on the best pH meter for stormwater sampling & monitoring to learn more.
Anyway, here's what we recommend you pick up:
Buffer & Cleaning Solutions
This gets a little technical but bear with me. You need buffer solutions in order to calibrate your pH meter. These solutions have a precise pH, meaning you can calibrate your meter to be accurate when you "test" these solutions. Buffer solutions are affordable and easy to get, which is good because they typically have a shelf life of about one year and should be discarded once expired.
There are two kinds of buffer solution standards the Oakton pHTestr 30 can use which are USA standards and NIST standards. Either will work fine.
Also, cleaning solution for your pH meter is also a necessary item to have, since you need to clean it before and after each use. You can purchase a fancy expensive electrode cleaning solution, or you can simply use distilled water. My advice is to pick up a gallon of either or some individual bottles which are easier to keep in your kit.
Storage Container
I recommend having a nice secure location for all of this equipment, but you can use whatever you like, like a toolbox, a milk crate, plastic bin or tote, or even a cardboard box! But, this is important stuff and you really don't want anybody messing around with it. Keep it all in one place in a way that works for you.
For that one reason, I recommend you get a secure container. I recommend using a cheap, lockable toolbox, and keep it locked with a simple combo lock.
Documentation
It's also important to have handy all your appropriate documentation. You'll need:
Your standard operating procedure (SOP)
Your pH analysis worksheets
Your pH meter instruction manual
I recommend keeping a copy in your office, as well as a copy in your storage container. That way, if you're ever in doubt, you can always review these documents to ensure you're performing the analysis correctly. I also recommend keeping these files in some sort of waterproof folder or case, since you'll be outside in the rain!
Random Stuff
This is the catch-all category since I tend to keep random stuff in my pH kit that helps me do my job. I recommend getting these things as they'll make your life easier, but you do what works for you.
If you do need to send your sample forward to a lab, your best bet is to grab some free sample bottles from them. If you don't, using the cup should work just fine!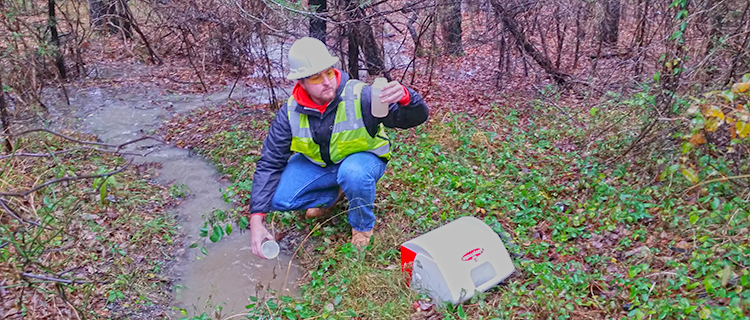 Assemble & try out your pH kit!
Once you get all your stuff, unpack it, and get familiar with everything. As they say, practice makes perfect, but don't practice on stormwater samples, practice on soda or coffee or juice. Why? Every time you sample stormwater and test for pH, you must report it. If you don't report it you're seriously out of compliance, and possibly engaging in illegal behavior. In short, don't do it. So practice on other things to get comfortable using the meter by following the instructions in the manual and SOP.
It's vitally important that whoever's using this kit go through some training and understand what they're doing. That includes how to use the meter, how to sample, why you're sampling, where to sample stormwater, etc. If you want good results, stormwater training is a necessity!
Now that you have the outline to the world's best pH field test kit, practice using it, turn on the weather, and get out there the next time it rains!
To learn more about stormwater sampling call us at 609-693-8301 or contact us online and we'll get back to you as soon as possible.