Environmental audits can be a tricky thing to understand if you're new to the environmental scene. Here we discuss the top 5 things to know about audits that will help you understand the process and service better.
I've spent the last 20+ years working to help companies get into environmental compliance, and over those years, I've gotten some great questions from plant managers, environmental managers, CEOs, etc. about audits, ranging from simple to extremely complex.
We find people tend to have a lot of questions about audits, and with good reason. There's no cut and dry answer as to what your audit is. Personally, I'm a big proponent of audits, as they can be invaluable to your facility and company. They can help get your operation on the right path to environmental compliance, and steer clear of penalties, fines, and violations.
Just be warned though, audits can carry a lot of liability if not done correctly, or by someone with a good grasp on the regulations impacting your operation. Basically, if an audit is done incorrectly, it can hurt you and you operation.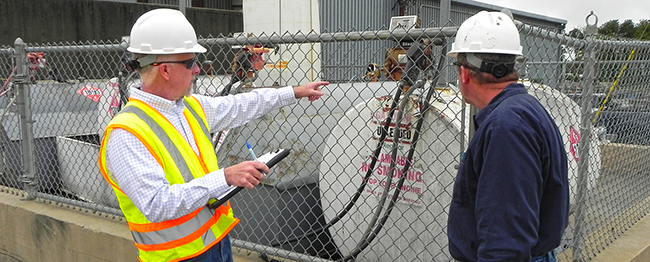 The Top 5 Things to Know About Environmental Audits
Here's my top 5 tips I usually tell people when we start talking about audits. Before you dive into them, if you're unsure what an audit is, click here to read what is an environmental audit?
1 - What's the purpose of the audit?
If you're doing anything other than a complete, comprehensive compliance audit, then make sure it's very obvious. For example, if you're doing an audit on your facilities stormwater permits, make sure it's clear that it's just that, and nothing more. Clearly define what your goals are, and what you want to find and learn out of the audit.
2 - Be ready to address the issues the audit findings.
I've conducted audits that have found everything from major issues to very simple tweaks, but the bottom line is these folks now have a document showing they aren't following regulations. You (and management) have to be 100% aware of what is involved. You must be willing to do WHATEVER needs to be done to fix problems. This can include self-reporting, penalties, or even shutting down operations until things can be addressed.
Don't get an audit unless you're ready to address any and all issues! There is nothing worse than finding an issue and not addressing. It can have real repercussions, especially if regulators learn about your audit. You can get in some serious trouble.
3 - The audit found a problem, now what?
If something is found, strongly consider the USEPA's Audit Policy to self-report and potentially avoid penalty, at least on the Federal level. There are strict requirements on its use, so consult with someone with experience before self-reporting. The use of this policy requires it to be based on a comprehensive audit conducted by a qualified person and prompt reporting in accordance with specified deadlines.
Just remember, this may not provide any protection on the state level. If it's something that requires reporting to the USEPA or the USEPA is the largest potential enforcer, then consider this. We cover this more in our article Do I have to report the results of an environmental audit?
4 - Do I Need An Attorney?
Do yourself a favor and consult legal counsel. There is a lot of risk involved with audits, but a lot of benefit as well. Talk to an environmental attorney before you begin the auditing process. Let them know what is being considered, and proceed based upon sound legal advice.
Have the audit conducted through the outside legal counsel. Legal counsel can retain an environmental expert to do the audit so their correspondence is considered privileged (secret!). This is known as attorney-client privilege, and really should be used. This is what larger companies prefer to do, and there's a reason why; it's good business and makes sense to keep your information safe!
5 - Don't skimp, hire an expert.
For your first audit, I would be wary of doing a complete, comprehensive compliance audit yourself. Why? Simple, liability. Chances are you're going to find something which will need to be reported to management, documented, and may require some inconvenient steps to be taken. Hire an outside expert in the field to conduct the audit.
Don't scrimp on good help. Make sure the auditor has a good grasp on all related issues. I've seen a lot of "compliance audits" done by "experts" who know almost nothing about the applicability of this to the industry/facility being audited. Remember, any issues are yours to deal with. Some issues have penalties if faulty reporting was done, which can be severe. Make sure you use someone who knows what to look for and how to help you or you could pay the price.
---
Overall, I think most facilities in the United States should actively be conducting environmental audits, especially when you factor in things like staff turnover, regulation changes, and that regulations can (and do) exist on federal, state, county, and even the city level. Chances are you facility isn't 100% in compliance with applicable laws and regulations, and audits can help keep you in check.
To learn more about audits, click here to contact us or give us a call at 609-693-8301 today to discuss your environmental challenges.