We cover details on Community Right-to-Know Reporting & TRI Reporting in South Carolina.
When it comes to EPCRA Reporting, usually meaning TRI Reporting & Tier II Community Right-to-Know Reporting, there's a lot of confusion surrounding the topics. From confusing regulations on the Federal level to regulations changing on a state by state basis, it makes sense that a lot of people get the topics confused.
The stakes have never been higher with EPCRA Reporting. From severe penalties to the threat of 3rd party environmental lawsuits, it's imperative that your operation, regardless of industry, location, or the size of your business, gets this right!
So, let's go over some details to help keep you organized when it comes to Tier II Community Right-to-Know Reporting and TRI Reporting in South Carolina.

Tier II Community Right-to-Know Reporting in South Carolina
First things first, make sure you know what we're talking about. If you don't, check out this article to learn more: What is Community Right-to-Know Reporting?
Ok, let's keep going.
Remember, this regulation has a few names, but they all mean the same thing.
Section 312 Reporting
Tier II Reporting
CRTK Reporting
Community Right-to-Know Reporting
It's all the same, and it's the same everywhere you go across the United States. The details are:
You must report on hazardous materials or chemicals you store on-site over the course of a year in excess of the reporting thresholds.
Hazardous materials are any substance that has an associated SDS (previously MSDS) as per OSHA regulations.
Reporting thresholds typically are 10,000 pounds. Extremely hazardous substances (EHSs) have a threshold of 500 pounds or the threshold planning quantity (TPQ), whichever is lower.
For a more in-depth look, check out: What's included in Tier II Community Right-to-Know Reporting?
Once you determine if you need to report, you need to submit your information to:
Department of Health and Environmental Control (DHEC)
Local Emergency Planning Committee (LEPC)
Local Fire Department
Pretty straightforward, but there are a few things to know.
The State of South Carolina only accepts reports submitted through E-Plan software. No paper submittals are accepted.

For those that don't know, E-Plan is an online reporting software. You create an account, log in, and submit your report.
Many fire departments and LEPCs accept E-Plan as well, though there are still some that require other methods of submissions. In order to ensure that you are compliant with those submission guidelines, it is recommended that you contact your local fire department and LEPC to find out exactly what you must do.

South Carolina recommends you maintain signed copies of your online submittals for a minimum of five years from the date of filing at your facility.
There is no fee charged for filing your report.
There are some differences when it comes to reporting, which we cover in this article: Is there more than one way to do Tier II Community Right-to-Know Reporting?
That's pretty much everything you need to know!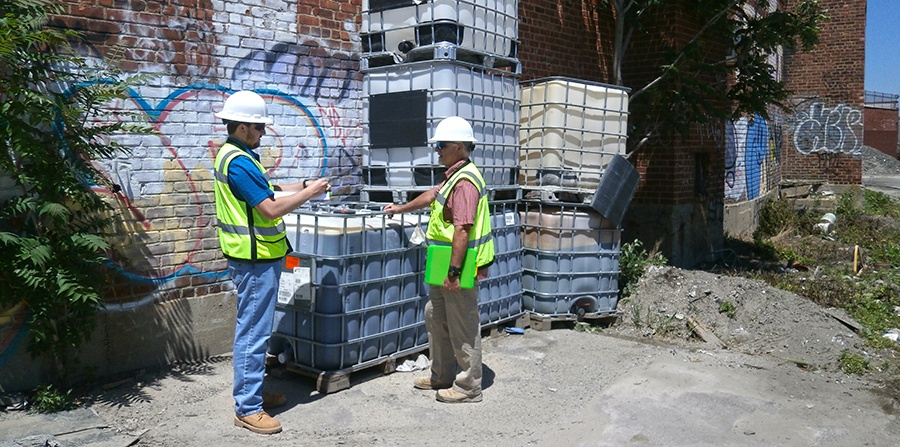 TRI Reporting in South Carolina
TRI Reporting goes by many different names, including:
TRI Reporting
Toxic Release Inventory Reporting
EPCRA Reporting
Form R Reporting
Form A Reporting
SARA 313 Reporting
Section 313 Reporting
SARA Title III Reporting
SARA Title III Section 313 Reporting
Regardless of what you call it, it's all the same thing. The details for TRI Reporting are as follows:
The facility is included in a TRI-covered North American Industry Classification System (NAICS) code.
The facility has 10 or more full-time employees OR a total of 20,000 working hours or greater, including part-time employees, truck drivers, etc.
Facility manufactures (defined to include importing), processes, or otherwise uses any EPCRA Section 313 chemical in quantities greater than the established threshold in the course of a calendar year. Some tresholds are 25,000 pounds, some are a few ounces, so make sure you do your homework and double check the USEPA's list to find out.
Since TRI Reporting is controlled by the USEPA, there's not much of a difference here when it comes to reporting in various other states. There are no specific state requirements to be aware of. But, South Carolina only accepts reports submitted electronically via the internet to the U.S. Environmental Protection Agency's Central Data Exchange. Facilities submitting by internet are exempt from any separate mailing to the DHEC.
However, here are a few helpful articles that should help clear things up:
And that's pretty much it!
TRI Reporting vs Tier II Community Right-to-Know Reporting in South Carolina
Just be aware, while these two reporting requirements sound familiar, they are very, very different. This fact is compounded by much of the information out there regarding these two very different reporting regulations being confusing, contradictory, or downright incorrect. We've talked to regulators that confuse the two topics. We've read fact sheets from regulatory agencies that use the words chemicals, materials, mixtures, and compounds interchangeably.
One of the biggest offenders we routinely see is regulators calling (either in person or in documents) either TRI or CRTK Reporting "annual chemical reporting". That's about as clear as mud.
Staying ahead of these two regulations can be tricky. From our experience, Tier II Community Right-to-Know Reporting is the easy regulation to stay ahead of. In fact, most of our clients handle it on their own. TRI Reporting, on the other hand, can be much much more challenging to get through.
Always stay educated on these subjects. And folks, don't wait until the last minute to do your research. Make sure you know TRI Reporting & Community Right to Know Reporting Deadlines to ensure you stay ahead of the game.
And always, if you aren't sure what you're doing, get in touch get in touch with experts to find out more.