An environmental audit is a serious tool to help an organization discover any areas they are lacking in with regards to environmental compliance. Many folks want to know if an audit is necessary for TRI Reporting, and here we discuss what our feelings on the subject are.
Many of our clients who have been holding off on TRI Reporting, for whatever reason, are starting to suddenly take interest in the subject again.
Regardless of the reason why, I'm glad they are. However, I have some reservations, similar to what my clients are saying, about just jumping right into reporting. Why's that?
Because all the sudden, if folks start really doing Toxic Release Inventory Reporting, and I'm talking about doing it correctly for each and every facility, there's a chance that regulators might take notice.
There's a chance you could inadvertently let the USEPA and/or your state know that you haven't been doing Toxic Release Inventory Reporting correctly or completely. In other words, but just starting to report, you could raise a red flag.
From where I'm sitting, I completely agree. It is a risk. In fact, so many people think so, I think it's one of the larger fears that keeps people from reporting. And I honestly don't blame anyone. If you get a violation with regards to Toxic Release Inventory Reporting, you could be facing some of the harshest, most significant penalties the USEPA can hand out.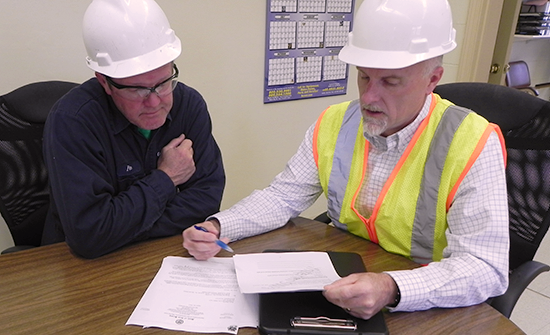 Should you consider an environmental audit to start TRI Reporting?
This is something somewhat confusing to people, as it's a little more entailed then just a checklist of environmental compliance topics at your facility. To learn more, check out environmental audits for additional information.
Ok, so let's say you've never done Toxic Release Inventory Reporting (meaning you might be wondering what is TRI Reporting?), and you want to make sure you can't get in trouble for not reporting in years past. Simple enough.
You get a a comprehensive audit, and then use the USEPA Audit Policy. If you haven't used it before and you're not in compliance with ANY environmental regulation, including Section 313 Reporting, you really need to pay attention.
What this basically is, is you perform an audit of your facility, fill out some pretty serious paperwork, and tell the USEPA that you know you're not following the rules, you figured out what you have to do, and you're going to start following the rules starting now. It's way more in-depth than that, but that's kind of the jist of it.
The USEPA Audit Policy comes with a lot of conditions and requirements. In a nutshell it says that if you conduct a comprehensive audit, discover, and self-report any deficiencies found, and establish a plan to correct those deficiencies according to policy deadlines, then there's no penalty. While there are some important conditions on this, and it can't be used if there's been damage to the environment or human health, this is really a great way to get your house in order without running the risk of a huge fine.

Here's why environmental audits are so useful for TRI reporting.
For whatever reason, it seems like Toxic Release Inventory Reporting isn't as widely known as other types of regulatory requirements. So, many facilities that should be doing Section 313 reporting aren't. Or, they may have been doing their reporting the same way they've been doing it for many years, and haven't updated it to reflect current operations. Either way, failure to conduct Section 313 reporting accurately every year means taking huge risks.
Environmental audits are perfect for situations like this. Assuming you conduct an audit and then use the USEPA Audit Policy, you should be able to admit your faults and start over again, in order to be fully compliant with applicable rules and regulations. Remember though, now that you've admitting to neglecting regulations, it's possible you'll have an elevated level of attention going forward. That means you may be under a microscope. If you screw up in the future, it's possible no one will cut you any slack.
Audits can keep the risk of getting caught very low, prevent you from getting in trouble for years of neglecting regulations, and for environmental compliance matters like Section 313 Reporting, it's a perfect tool. But bear in mind, the audit has to be comprehensive and should be done by someone with knowledge and experience across the board with the regulations your facility has to deal with. And, since you can only use the USEPA Audit Policy once, you really need to ensure it covers everything.
Additionally, the USEPA's Audit Policy isn't a walk in the park, and can be denied, putting you at real risk. It rarely happens, but I have seen it before, and the outcome can be pretty tricky, and things can get ugly. Again, this should only be done by someone with proper knowledge and experience with such things.
Overall, audits are a powerful tool for assisting you on the path towards complete environmental compliance. We've conducted countless audits across the country for facilities of all shapes and sizes, and have found that using the USEPA Audit Policy is a good move for many operations. It's not perfect for everyone, but for many people it can be a life saver.
To learn more, click here to contact us or give us a call at 609-693-8301 to discuss your environmental needs today.