We get asked a lot to help with companies that find out – one way or the other – that they don't have all the environmental permits and approvals that they need. Unfortunately, they often find this out through an inspection by a state or Federal regulatory agency which often leads to some form of penalty. Or, they may find out on their own through a seminar, something they read, or through an association.
But sometimes, they find out through an environmental audit, which is one of the best ways to discover this uncomfortable situation for the potential protections it offers.
So what if you discover you don't have all the permits and approvals you need? This is a very important question, since you don't want to have to worry about an inspector showing up or getting a huge penalty or fine. But won't finding out mean you're blowing the whistle on yourself? Won't you get yourself in trouble?!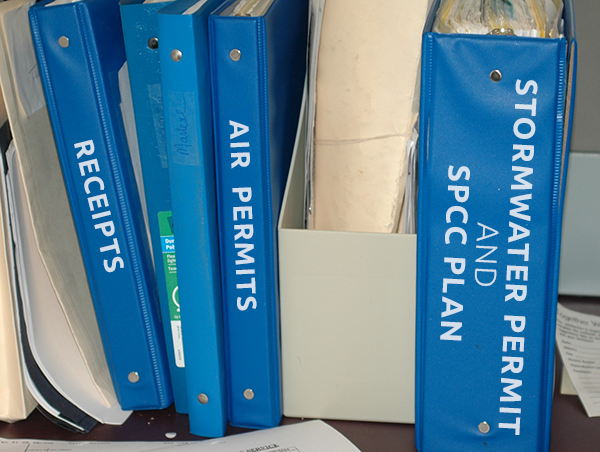 What if I don't have all my environmental permits?
First, bear in mind that being in environmental compliance is always better than being out of compliance. Certainly, having another environmental permit or approval is going to bring some pain with it, such as additional fees or responsibilities, but in the long run it is still much better to be in compliance by having all your permits and approvals than not. The fines, fees, and penalties are much less severe if you're trying to stay in compliance. No question about it.
You also need to know that there are better ways to determine where you stand with your permits and approvals. Finding out through an inspection from a government agency is about the worst way to find out, since you may very well face some form of harsh penalty.
Finding out on your own is much better, since then you can catch your breath and determine your course of action. The best way to determine where you stand, however, is through a third-party environmental audit conducted through attorney-client privilege. This can provide you with maximum protection and time to figure out your best course of action.
One great avenue to explore is your state's use of audit privilege; that is, the waiving of any penalty for most types of deficiencies (like lack of a permit) or other types of non-compliance, provided that they are self-reported and in a timely manner. There is a Federal environmental audit process (called the USEPA Audit Policy) that can also be used. It's a pretty serious undertaking, but these can come in pretty handy if you find out you're lacking a permit or approval.
But the bottom line is this. If you find out you don't have some type of environmental permit or approval that you need, get it. Get some qualified assistance to minimize your liability and to get what you need as soon as possible, but get into compliance. It is always far easier than being out of compliance. You'll be able to sleep at night, not worrying about every stranger who shows up at your place of business, and will be able to get back to what you really want to do.
Not sure if you have all your permits or approvals that you need? An environmental audit just might be your way to go. To learn more, click here to contact us, or give us a call at 609-693-8301 to discuss your needs.