Often overlooked, your environmental documentation system is vital. Here we discus why it's necessary to keep it in good order, ensuring your facility stays ahead of regulations, free and clear of fines and penalties, and how it will help keep your business running smoothly.
We've been to countless facilities, from various industries, all over the United States. If there's one constant we consistently see, it's unorganized documents, especially environmental documents. We find there's a direct relationship between how organized your environmental documentation is, and your level of compliance.
For some, that seems to be a hard correlation to grasp, and people want to know, why is environmental documentation so important? From where we stand, we routinely see facilities with organized documents receive few, if any, violations from regulators. Facilities with unorganized documents almost always have a problem with enforcement and violations.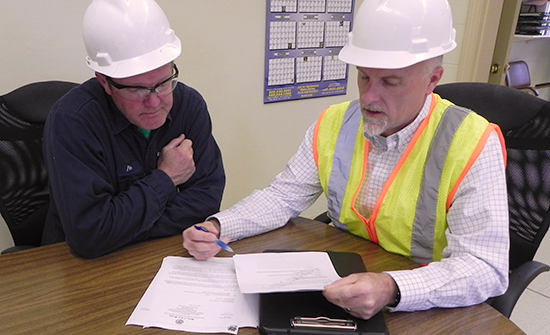 When we get to a facility, these few tell-tale signs indicate the level of organization of your environmental documents:
Can't find the documents. If you don't know where they are, can't find them, or only see them every once in a while, you're probably not keeping up with the necessary regulations, and you're probably not keeping your documents in order. Try doing this when an inspector shows up. Guess how long they'll happily wait patiently for…
No idea what the book is or for. If your books on the shelf are a complete mystery to you, you're in trouble. Do you know the difference between a stormwater plan and an SPCC plan? Where is your hazardous materials business plan? Air permit? If you don't know what you have, regulators are going to come down heavy handed on you.
Paperwork is a mess and out of order. I wish I had a dollar for every time we're told "I know it's kind of unorganized, we have to straighten it out". Yeah, sure. Regulators are going to want to see stormwater sampling results in your stormwater plan, and nowhere else.
Staff are unsure what's what. Do we have a permit? Where is it? What are we supposed to be doing? Who's responsibility is it? Are we trained? Do we need to be trained? Is it state or EPA? Is it a municipal permit, or state permit? Your staff represents you, and should at least know the basics of your environmental documentation control, like where you keep your books, important information, who to talk to for certain things, etc.
All in all, any of these few things are going to get your inspector annoyed, and start your inspection off on a bad foot. Chances are there's some environmental issues at your facility. If your inspector is in a bad mood, he's going to find them and give you zero leniency.
How should you keep your environmental documents organized?
Follow these easy steps:
Put someone in charge. Give the responsibility to someone. Make sure this person is knowledgeable, trustworthy, and trained correctly. You can get into serious trouble if you lie about environmental matters (I'm talking criminal level trouble), and your business is really on the line. Make sure there's a backup for when this person's out. And let everyone in your organization know who's the person to ask about the environment.
Choose a location to keep your information. Set a place where all your documents live. Maybe it's a dedicated file draw somewhere. If you want to go digital and keep your information on a computer in the office, make sure you have a backup somewhere in case of a power outage or computer problems.
Organize your stuff. This is the biggest, and easiest thing to do! Keep all your stormwater documents together. Keep your air permit information together. Never mix your environmental documents up. Keep them where they should be. You don't want a regulator looking at your stormwater plan and seeing a copy of an expired air permit, or vice versa. Use file folders if you need to. Get a permit bulletin board and post your current permits, with expiration dates clearly marked. Whatever you do make sure all of it is kept organized from today forward. No excuses.
When we see these basic steps in place, we usually see a facility that has their act together. It's generally a facility that knows what they're doing, and doesn't get violations or fines. It's a facility that operates in compliance with regulations, meaning inspectors are in and out, employees are spending all their time fixing environmental issues, and more often than not, a more profitable operation. Take care of environmental compliance in a way that allows them to do what's really important – get back to business.
After all, isn't that really what this is all about?
Need assistance with your permits, plans, and approvals? Click here to contact us or give us a call at 609-693-8301 to discuss your needs today.