The 5 traits you should expect to hear from any environmental or sustainability speaker.
Speaking on environmental matters doesn't take a rocket scientist, just someone who can get the job done well. In my opinion, and the opinion of friends and colleagues, more often than not, sustainability and environmental speakers end up coming up short. A few important factors should always be taken into consideration when it comes to an environmental or sustainability speaker, which are outlined below.
I just got back from a meeting, and one of the keynotes was just awful. You ever deal with that? You expect some profound, entertaining, and enlightening information, only to hear some overused, meaningless, generic 'be the change you wish to see in the world' feel good garbage?
Where's the substance? What are the takeaways? What does this have to do with me? Most importantly, why should I care?
In this instance, I didn't. I zoned out, checked some email, and started thinking about where to meet up with some colleagues for dinner that night.
I was lost, and so was half the crowd. The speaker was a failure and went over like a lead weight.
Later that evening, a few of us were sitting around after dinner ragging on about the poor speaker. We got talking about what we saw, what we've seen in the past, what works, and what doesn't when it comes to environmental and sustainability speaking. We pulled together what we thought were the most important aspects of any speaker are.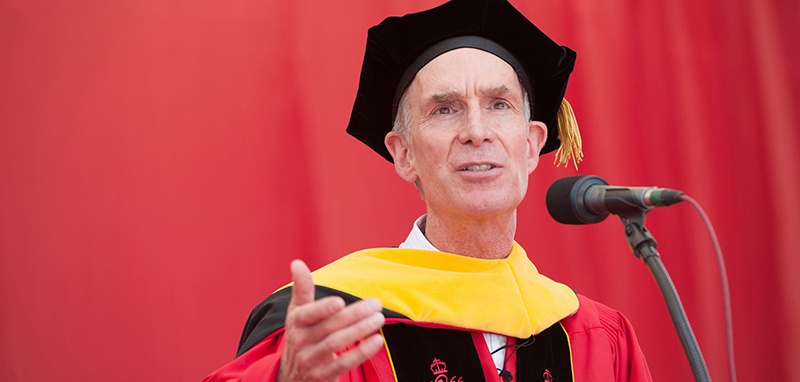 The top 5 traits of a brilliant environmental or sustainability speaker.
You might be wondering why I have Bill Nye above?
A couple months back my youngest graduated from Rutgers University, and Bill Nye gave the commencement speech, which was largely based on scientific and environmental topics. Everything I mention below Bill Nye nailed to a T. So if you're looking for a good example of what to expect from a great speaker, Google that speech.
In the meantime, these 5 points will give you an idea why Billy Nye, and other great orators like him succeed as well as they do.
Environmental speakers should be experts.
I'm not just talking about a speaker being knowledgeable, but a true expert. If your speaker doesn't know what they're talking about, the audience will start catching on real quick.
I'm always amazed at how many speakers think an audience will be dazzled with flashy BS that lacks substance or a comprehensive understanding of the subject.
For instance, I've turned down environmental speaking engagements before because I honestly felt like I didn't know enough about the particular topic. I wish other 'experts' would do the same!
Ok, so hire an expert. Got it.
You should also make sure your speaker understands not only the topics you'd like covered, but how it relates specifically to the audience. Taking time to learn the issues, problems, or opportunities of environmental issues as they relate to your audience should be a high priority to any speaker.
You're environmental or sustainability speaker should be an expert in the subject matter and the issues that are going to make the biggest impact with the audience.
Environmental & sustainability speaking should be engaging!
Honestly, that's all that needs to be said about this aspect of speaking.
The best speakers, regardless of event, topic, whatever, are the ones that captivate the audience.
The worst spot for any speaker is that mid-afternoon, post lunch session where the room is ready to either doze off or get back into the midst of things.
Is the audience in a daze from their delicious lunch? Are they bored already?
Maybe it's just because the speaker can't shake the audience up.
If your speaker doesn't connect with the crowd and they're not captivated by the speaker, you're dead in the water. I don't care if you're sharing the location of the fountain of youth, no one is going to listen.
A speaker needs to captivate, engage, and keep the audience listening through 100% of the speaking event.
Environmental speaking should be unbiased (as much as possible).
This is a little tricky. Let me explain.
If I'm speaking in front of an industry group, and their main environmental concern is eliminating regulations, I'll have to delicately address topics. In this instance, I'll try and point out the aspects of the regulations which make sense and are good for the environment and people. I may spin in something like how managing regulations with an environmental management system could lead to benefits or positively impact their bottom line by overcoming simple aspects of regulations. It all depends.
The same goes if I'm speaking to a group of environmentalists or a grass-roots type group. I'm not the kind of person who is going to agree that all industry is evil and must go in order to preserve the environment, but I will appeal to their pro-environmental stances.
It's all about balancing and discussing both sides of the coin when effectively addressing an audience.
An environmental speaker should be genuine.
Genuine, humble, honest, call it what you will.
Any speaker who comes rolling in like they're the greatest thing since sliced bread, you're almost guaranteed to turn people off.
In order for a speaker to connect to an audience, they have to be on the same level. If the speaker is blatantly pandering to what the audience is hoping to hear, they'll come across as disingenuous.
I've seen too many technical experts come off as egotistical robots here, and it doesn't work. If they're on a different level, there needs to be a common element that can tie everyone together.
A good environmental speaker will speak with, not to or at, an audience, and share their concerns.
Environmental & sustainability speaking should include a slight element of humor.
I might be going out on a limb here, but what were you expecting? Advanced degrees? Government connections? 30 years of experience?
No. Forget about any credentials since you're audience doesn't care about them 5 seconds after they're mentioned.
From what I've seen, and what my colleagues say, the best speakers can educate, keep a crowd awake, and 9 times out of 10, make them laugh.
So I always recommend getting a speaker who can mix it up.
Maybe it's a joke, or a humorous story, a cartoon about a relevant topic, anything! I've seen speakers do memorable things on stage, everything from funny slide shows to one guy who juggled stress balls that looked like the earth to demonstrate how everything can come crumbling down if a rhythm gets off balance.
This is about the easiest way I know of to get the audience engaged and also come off as genuine.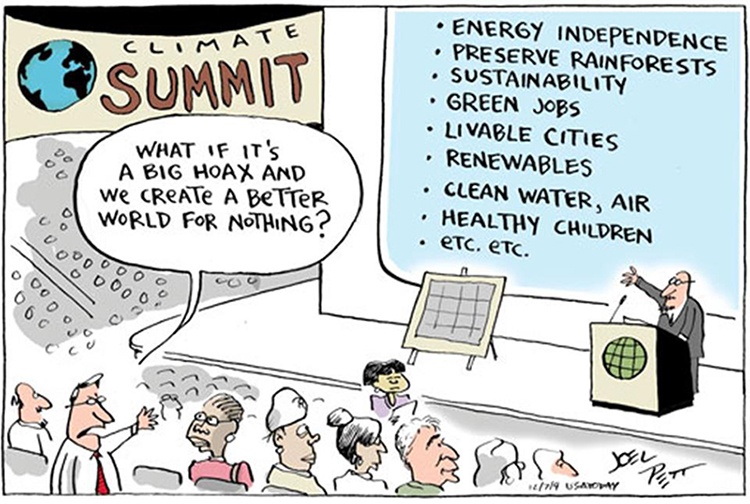 Environmental speaking doesn't sound too hard…
It takes the right kind of person to pull it off. Certainly not everyone is born for environmental or sustainability speaking, but at the end of the day it's not rocket science.
Here's the bottom line, and I'll bet you know what's coming.
If you want an environmental or sustainability speaker that really makes a hit at your next meeting, corporate outing, group event, community event, whatever, then you want someone who's got all the traits mentioned above.
If you can't find someone who fits the whole bill, take someone who's engaging above all else. The number one priority is to keep your audience engaged throughout the presentation.
So who are you considering hiring for your next event?
I'll be honest here, I consider myself to be an outstanding environmental speaker. I've spoken at numerous events all over the world, from owners of mom and pop companies in the U.S. to members of royalty in the Middle East about a wide range of environmental issues.
And, as I said before, I'd be the first person to let you know if I'm not the right man for the job.
If you want someone who your audience will learn from and remember, and who will help make your next meeting or event a hit, give me a call and let's discuss what you're looking for. If I'm not the guy, no hard feelings.
No matter what you do, make sure you vet your environmental or sustainability speaker fully. If you don't, don't say I didn't warn you. Get yourself a great speaker for your next event and your audience will thank you for it. To learn more, click here to contact us or give us a call at 609-693-8301.